A steerable fourth pin-on flip axle is the latest option for the MegaMAX double drop from trailer manufacturer Faymonville. A brand new and unique feature for North America! The tool helps to increase the legal pay load and to ensure even more versatility going from state to state.
Using state-of-the-art king pin steering, the new pin-on flip axle is user-friendly while offering new transport possibilities. At an axle load of 20,000lbs, it allows a total payload capacity up to 95,000lbs. At the max. technical axle rating of 22,700lbs in the 4-axle configuration, the trailer can even handle up to 105,800lbs. including the 4th axle, the basic trailer has an empty weight of around 40,000lbs.
When the 4th axle is not needed, it is easy to detach or flip for empty transport to shorten the combination. No shimming is required. The simple-to-use and robust mechanical steering link between the 3-axle bogie and the pin-on requires no hydraulics.
The unique king-pin steering on these double drops offers unmatched manoeuvrability and allows to access extremely tight areas such as construction sites, power plants or inner cities, which is always a challenge with long and oversize cargo. The hydraulic detachable gooseneck allows continuous height adjustment and a maximum of flexibility during loading and unloading of construction machinery.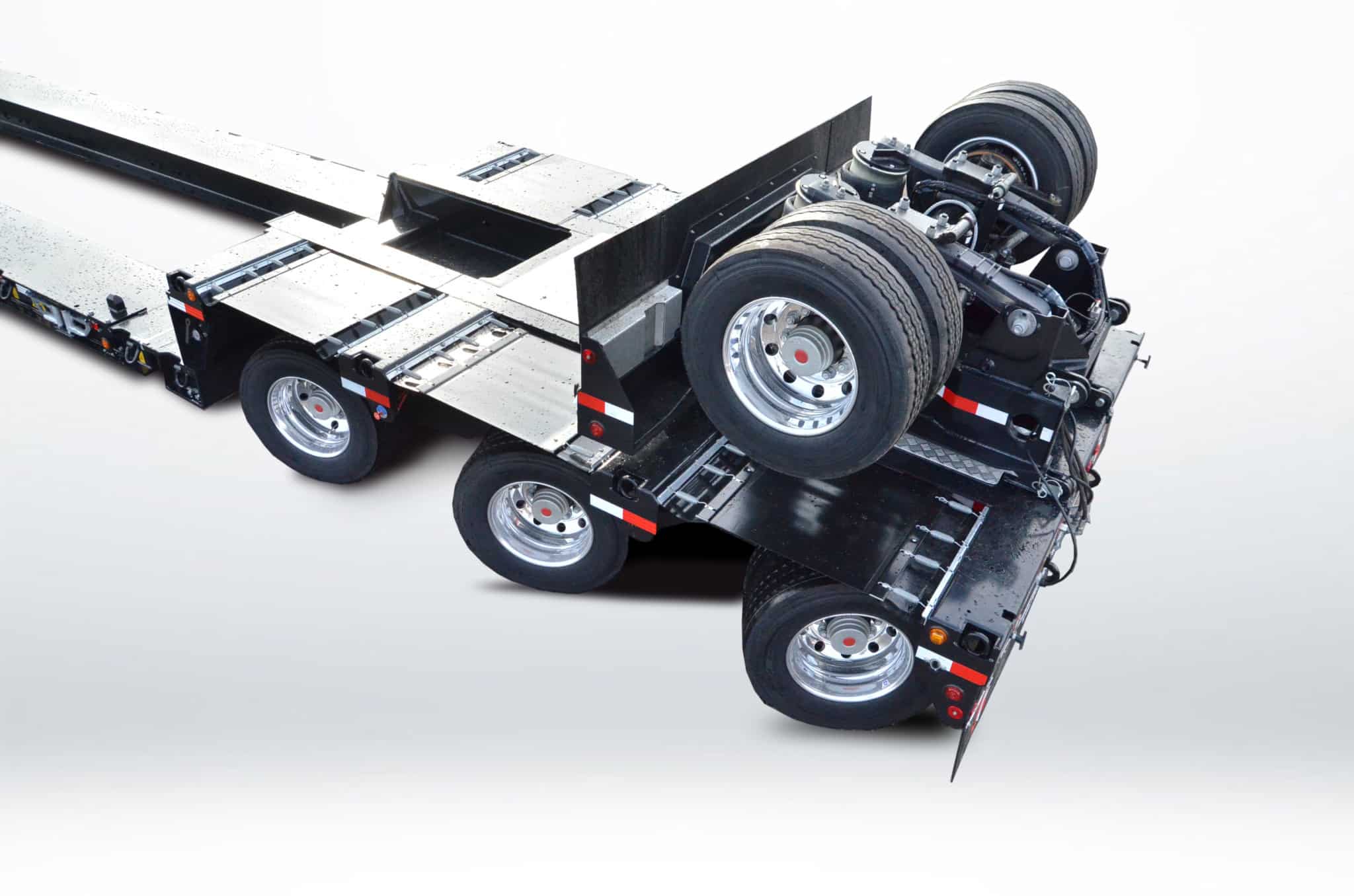 The MegaMAX is available with 2 decks: a stretch deck and a minideck. With 13.8" drive height, the stretch is the lowest of its kind in the market and helps to clear even the lowest bridges. The deck stretches from 25' up to 42', and can be extended even further using additional deck inserts (6'-6", 9'-10" , 13'-1" ). They can be added thanks to the detachable rear bogie. The stretch deck is extremely versatile and can be used for countless types of heavy and oversize cargo incl. industrial components, tanks, railcars, machinery or oversize containers. The minideck has a loading height of 10.8" and is ideal to move transformers or generators. The steel construction on the whole width allows maximum point loads.
Finally, Faymonville is the only European manufacturer in the North American market that uses electric and pneumatic parts that are completely DOT approved. This also means that spare parts for these components are easily available throughout the US and Canada, including at our dealer branches. For an extra-long life-cycle, the MegaMAX chassis is fully metalised (zinc-plated), which ensures the best corrosion protection available in the market!
HALE Heavy Haul carries these and many more Faymonville products on stock and offers efficient customer service, after sales support and spare parts.