SL2: THE LOWEST TRAILER WITH THE GREATEST GROUND CLEARANCE
DESPITE EXPERIENCE IN MORE THAN 1500 AXLE-LINES OF SL TRAILERS, THE QUESTION ALWAYS REMAINS: HOW CAN BROSHUIS FURTHER DEVELOP INNOVATIVE SOLUTIONS AND OFFER THE VERY BEST TO ITS CUSTOMERS? AFTER A SURVEY OF THOSE USERS, A NUMBER OF REQUESTS WERE VOICED:
The SL2 continues to have 360mm of stroke. This is important for lowloaders and for semis. Jacking up big loads, riding on and off ferries, and driving over hills and roundabouts are the main reasons users look to having a larger stroke.
In addition to these significant advantages, for a semi-low loader the SL2 creates even more ground clearance than for a pendle-axle semi at maximum suspension. The beam of the SL2 is less high than the new pendle-axle semi-lowloader – which means that the SL2 has more remaining ground clearance, with less stroke, and retains its advantage of a lower tare weight.
The maximum ground clearance thus comes to 720mm.
ii RIDE HEIGHT-IMMUNE (NO TYRE WEAR)
Thanks to further developments in the Broshuis steering system customised for the SL, it is now possible to control left and right steering independently. As a result, the negative impact of having steering-rods at different ride heights is now a thing of the past. The main outcome is no tyre wear.

Thanks to the correct choice of materials, the SL Trailer is low maintenance. The low maintenance costs are also a big advantage compared to pendle-axles. Moreover, all materials are universally available. Thanks to the new supporting arms, they also have the opportunity to fit the spring-brake-cylinder overhead and to provide a protective space. As a result, amongst other things, the SL2 is less vulnerable when riding on and off ferries.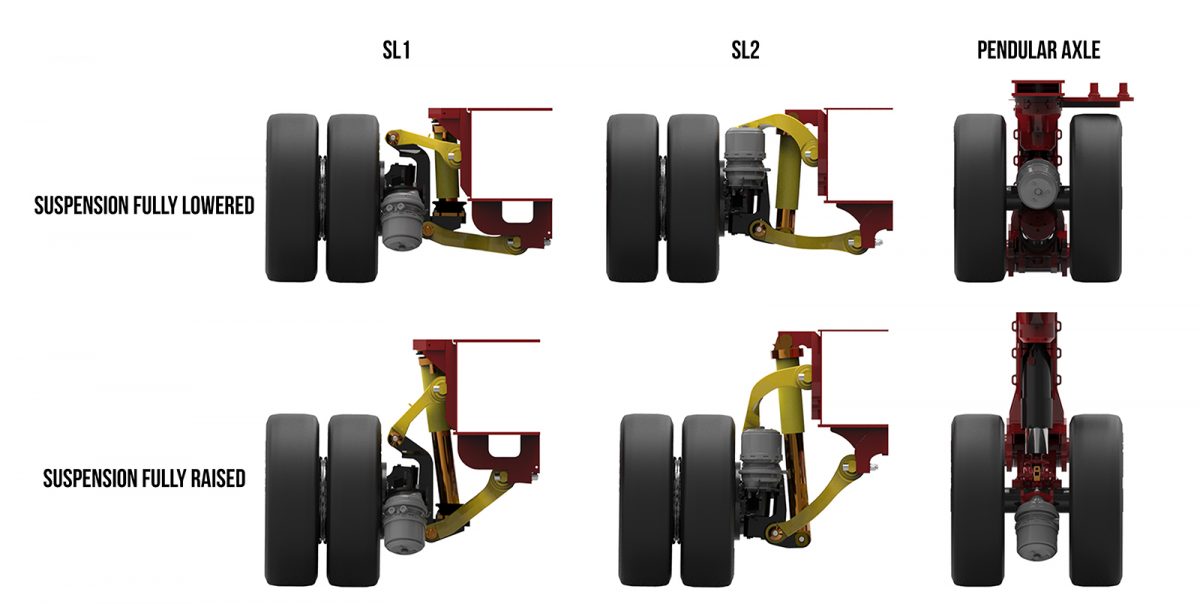 iv RETAINING THE SL BENEFITS
Of course, previous SL benefits continue to apply to the SL2 – such as the highest effective load-carrying capacity, the greatest stability, and a large steering angle.
• More stroke, which means more ground clearance
• Immune to driving at different ride heights
• Less maintenance costs; more room below the axle components
• Lowest tare weight in its class
• Greatest load-carrying capacity
• Larger steering angle
• Greatest stability