With the heavy haulage community occupying a large percentage of the outdoor area of Hannover's exhibition grounds, the weather fortunately held out for the IAA Commercial Vehicle show. This biennial event is an opportunity for all areas of the commercial vehicle world to come together and showcase new products and detail plans for the future and, after the excitement of new Euro 6 models in 2012, it had a lot to live up to.
With all the major trailer manufacturers in attendance, there was plenty of new metal to look at, but before the gates had opened, news had already broken that DOLL had been acquired by German investment company CMP Capital Management Partners.
"It is a great accomplishment to have sold DOLL ahead of the upcoming leading trade fair IAA," read a statement by Martin Mucha, insolvency administrator at Grub Brugger & Partner. "We have used the period of the insolvency proceedings to reposition DOLL for a positive future. We took great care and ample time to find the best suited investor for the company which was originally founded in 1878". Early on in the sales process, CMP identified the great potential of DOLL. "We will continue the existing product range in the field of timber transport, heavy haulage and ground support equipment, and maintain both production plants in Oppenau and Mildenau."
With those words in mind, the company debuted a panther 6-axle low loader that features a 2-axle detachable dolly, and a payload in the region of 70 tonnes. Other features of the new unit are more familiar with the remainder of the range – a total stroke of 405mm, steering angle of 55° and a 780mm loading height (above the bogie) – which DOLL hopes will win sales away from the competition.
The trailer can be modified into a semi low-loader with a loading height of 850mm by lifting the extendible low-bed by 45cm and mounting it between the dolly and the running gear of the rear axle. When extending, the low-bed platform can ideally be positioned either behind the dolly or in front of the rear axle's running gear by turning the low-bed always considering the specific cargo. The dolly itself can be loaded on the low-bed after removal which replaces the second man when driving empty.
There was also a telescopic, hydraulically steered semi- trailer in DOLL's LOGO series to see in Germany, with the company keen to demonstrate how to cut dead weight and increase payload due to intelligent use of materials. Described as 'compact and comfortable', the LOGO 21 weighs just 6.7 tonnes, and offers a payload of 25.3 tonnes.
Meanwhile, Faymonville was celebrating winning an innovation award for its CombiMAX concept, which premiered at the trade show. The Belgian low loader and semi-trailer manufacturer presented a wide range of innovations, with the CombiMAX system being the pick of the bunch.
On the concept, all steering systems are controlled by a brand new gooseneck – developed using 'One-Neck- Technology' by Faymonville – regardless of whether it involves vehicles with four or 8-tyred pendle axles; vehicles with knuckle-steering (hydraulic or air suspension); or vehicles with independent wheel suspension from the Twin Axle II series.
Regardless of which coupling system is used – whether bolt coupling, quick (dis-)connect hook system or extension using the unique telescopic centre beam (add- on beam) – all three components and principles can be easily interlinked with one another on the CombiMAX. As a result, customers can react quickly and easily when required, whether they are hauling 50 or 250 tonnes. The final major advantage was described by Faymonville as 'the joker axle'. In the event of the axle load being exceeded, this single-axle module can be attached quickly and without any complications to the existing vehicle.
Broshuis used the IAA fair to introduce SL-AIR, a self-tracking SL-Trailer on air suspension. The trailer has independent suspension and therefore offers the same advantages as a hydraulic SL-Trailer – 12 tonnes per axle line, 79cm loading height and a stable and stiff chassis.
The SL-AIR is built up from standard parts, which means that not only are maintenance costs kept low, any replacement parts that are required can be acquired with relative ease. The self-tracking SL-AIR axle has a maximum steering angle of 30°, around 10° more than a conventional axle, offering better handling for operators.
With a 60 tonne payload, a 4-axle SL-AIR trailer is able to do the job of a 5-axle unit, meaning further efficiency benefits for fleet operators. As well as the SL-AIR, Broshuis also presented a 100 tonne trailer solution, a power steered Mega-Trailer, a pendular low loader, and several container chassis.
PRODUCT PORTFOLIOS ON SHOW
TII Group was keen to promote the Wiesel and TruckWiesel products from KAMAG, as well as the EuroCompact and Superflex trailers from Scheuerle-Nicolas. The TruckWiesel comes equipped with a hydraulically liftable and lowerable fifth wheel – allowing a fifth wheel load of 18 tonnes and a wide range of coupling heights to be achieved.
EuroCompact and Superflex can accommodate payloads of up to 120 tonnes at 80km/h. The former is designed specifically for the transportation of heavy industrial and plant machinery, and also boasts the best payload:tare ratio in its class. The unit can be used with a variety of compact dollies, dolly bogie units and platform trailers, and different numbers of axle lines and permissible axle loads can be achieved. The design of the rear bogie incorporates a 900mm-wide body that is positioned very low to the ground, allowing high and wide excavator arms to be be accommodated.
The highlight of the Superflex, meanwhile, is its freely positionable axle module, which can be removed and used without additional tools. This design allows operations to be quicker, improving efficiency at the same time, and easy to adapt to different demands or scenarios.
The big news from Goldhofer was its new MPA axle technology, which comprises just one wheel carrier, one strut and one suspension arm. The company claims that given this perceived simplicity – achieved through a reduction in a number of moving parts within the trailer system – it represents better value than alternative products and will help operators achieve efficiency advantages.
MPA technology is available for all semitrailers, low loaders and dropdecks. While the first STZ-MPA dropdeck was unveiled in June, the IAA saw a larger focus on a complete modular semitrailer offering. The modular system will offer loading decks and bogies with up to eight axles, while Goldhofer has also developed a gooseneck and front bogies with one, two or three axles. They can be employed in both platform and drop deck combinations.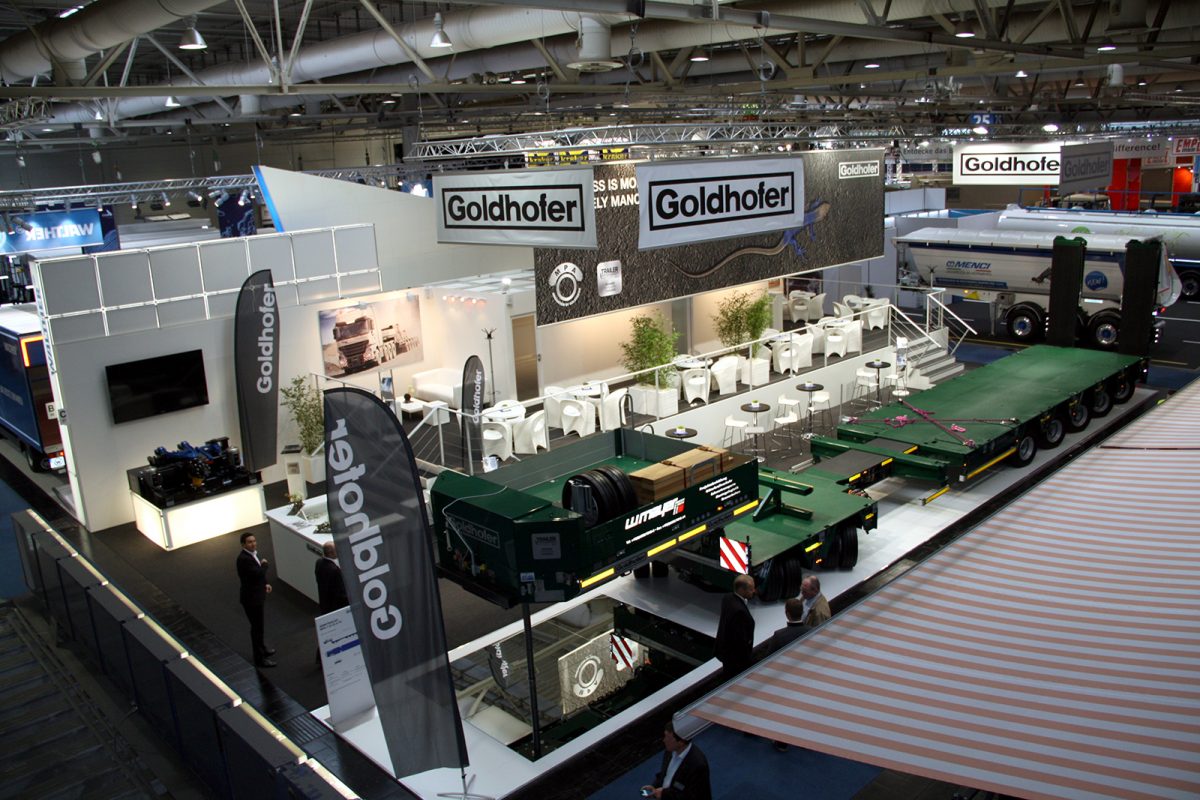 Two new products of interest were displayed by Nooteboom at the German show – the Dutch manufacturer hoping to appeal to different sections of the market with its latest product offerings. First up was Multi-PX, the company's modular semi low-loader with 3-axle detachable multidolly. Boasting a new 10-axle line configuration, it further expands the range, and allows payloads over 130 tonnes at 80km/h. Running on 245 profile tyres, the low-loader has a load floor height of just 850mm, which can be adjusted with the full 600mm stroke of the suspension. The Multi-PX is available with a single or double loadfloor, and in a choice of widths – 2,740 or 2,990mm. Axle distances are set at wither 1,260mm or 1,510mm, but Nooteboom says there is a growing preference for the latter, mainly due to the fact that the weight will be distributed over a larger area.
A simple coupling system means the multidolly is quick and easy to use. The pendulum axles have a steering angle of up to 70°, and the steering characteristics can be set in two positions, according to the length of the load floor.
The other news from Nooteboom was the arrival of a semi low-loader, designed to transport wheel loaders and dumpers. The 3-axle unit incorporates wheel wells, which allows it to carry the widest possible range of vehicles. Those wheel wells have an asymmetric shape, making unloading the wheel loaders much easier than other such trailers.
The low-loader also sits under the 40-tonne weight limit that is legal in Germany. As well as the weight benefit, there is also the height, an the unit has been optimised to sit below 4m in height. The unit is equipped with aluminium ramps, with hydraulic ramps offered as an option for different versions.
When the show returns in two years time, these new products should have hopefully become a common sight on the roads, and visitors can expect to see more innovations to help their operations run more smoothly and more efficiently.