And the Winner is…GCS Johnson
THE HEAVIES AWARD 2020 FOR THE JOB OF THE YEAR (BE16/VR1) GOES TO GCS JOHNSON.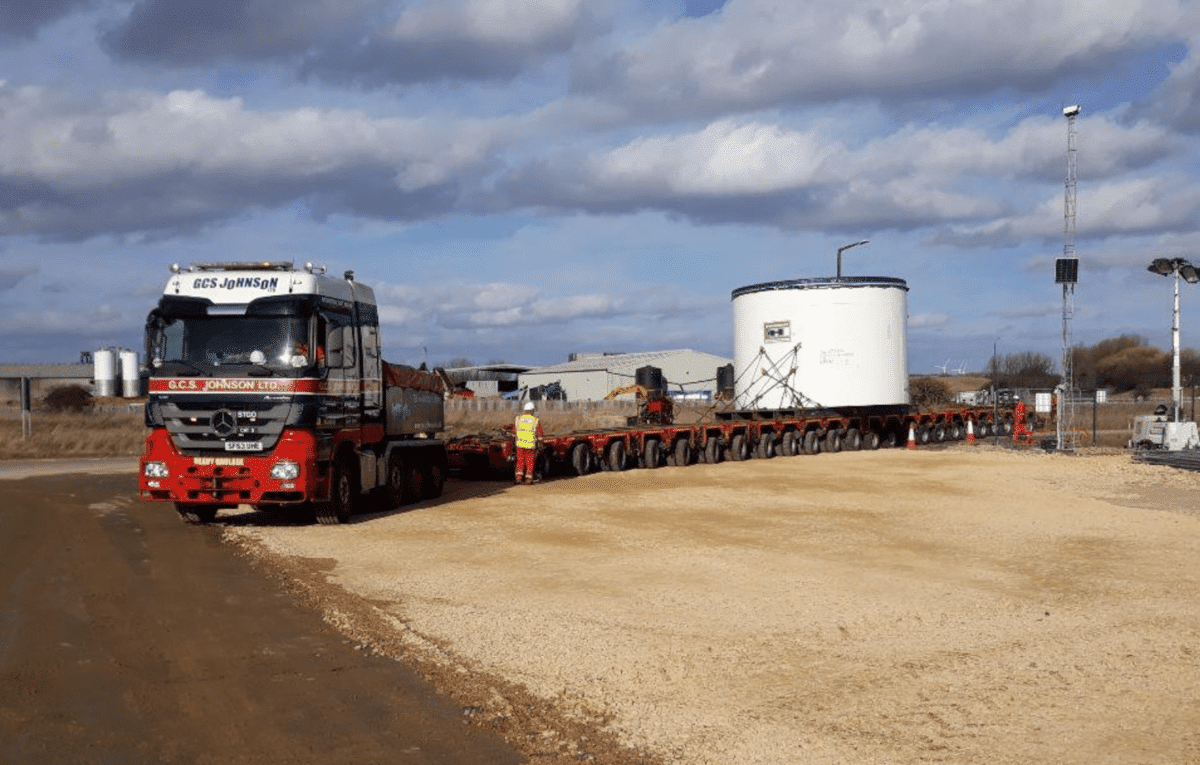 In the Judges Words: "Very good planning. A fine example of a specialist operator working very closely with the customer and other organisations to find a practical cost-effective solution to accessing a weight-limited location, by clever deployment of its equipment fleet.'
GCS Johnson transported a tunnel boring machine from AV Dawson's site in Middlesbrough to the Sirius Mining Project at Wilton, near Redcar. This involved transporting four loads all of which were over 6.1m wide. In addition, the main section of the machine measured 6.3m diameter x 4.5m high and weighed 200 tonnes.
There were a number of issues with this movement, the main one being an eleven-tonne axle weight restriction within the Wilton complex itself. This was over a number of concrete culverts which crossed pipe lines which were live and full of dangerous chemicals. The site at Wilton being the former ICI chemical plant.
In the past, the methodology for crossing the culverts was to bridge them with portable bridging systems, not as simple as it sounds, as the culverts are in excess of 12.0m and needed substantial structures putting in place. The knock-on effect of this would result in a five day period in which the roads where the culverts are situated are not usable whilst the bridges are erected then subsequently stripped down.
The site owner, Sembcorp were not keen on this option as the site is in 24/7 operation.
In order to achieve an axle weight of less than 12 tonnes a 24 axle trailer would be required, which is fine on site but unmanageable on the public road. The solution was to transport the boring machine on a 17 axle trailer to Wilton then remob the trailer into a 24 axle configuration.
Once all of this was agreed the only remaining issue was turning a 36ml 24 axle trailer in the restricted space on site. Rather than building a huge turning circle, a turning head was used and the trailer pulled from each end.
The resulting move went very well, the public road element taking only an hour and twenty minutes, considerably less than what was envisaged. All four loads were moved in convoy by Cleveland Police and all were offloaded as soon as they arrived on site. The crew transporting the 200 ton section did exceptionally well and in a single day moved to site, re configured to a 24 row, moved/offloaded under the crane, demobbed the trailer and returned to the yard.
Congratulations to everyone at GCS Johnson involved in this project!