On a Mission for Steam Locomotive Nostalgia
THE ULMER EISENBAHNFREUNDE (ULM RAILWAY FRIENDS) ARE DEDICATED TO PRESERVING HISTORIC RAILWAY MATERIAL. WITH THE HELP OF FAYMONVILLE'S VARIOMAX 2+4 LOW LOADER, THEY WELCOME THEIR LATEST ADDITION, A PARTIALLY DISMANTLED TYPE BR 86 346 LOCOMOTIVE.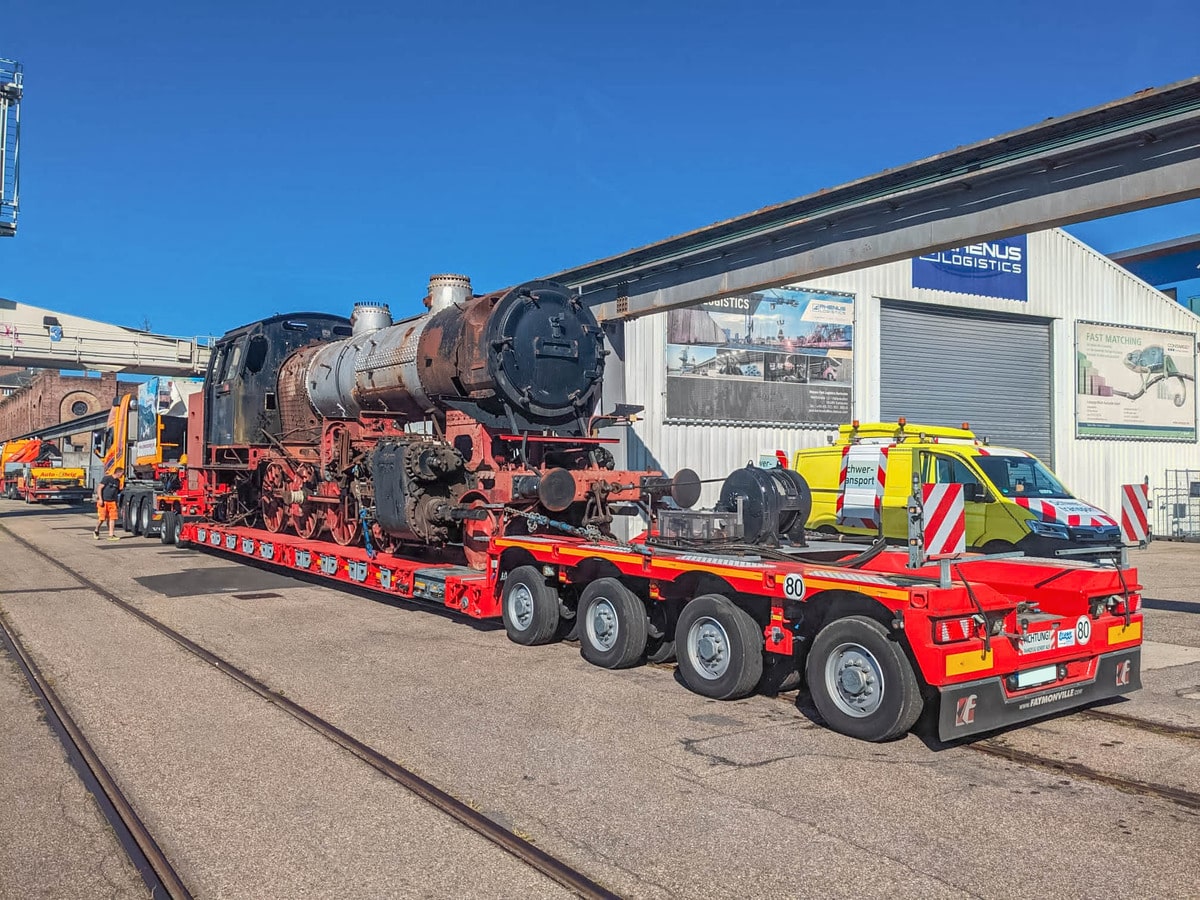 Locomotives often generate a special power of attraction, not only in miniature form, but also on a real scale. The Ulmer Eisenbahnfreunde (Ulm Railway Friends) are one such association of fans whose declared goal is to preserve historic railway material in an operational state. A further historic example has now arrived for preparation on a 2+4 low bed semi-trailer.
Railway vehicles pose particular challenges for those responsible for planning the transport. Ehrig Arne KG from Schwarzenberg has a wealth of experience in this area and is accordingly one of the most in-demand service providers for such tasks. On this occasion the load was a locomotive of the type BR 86 346 in a partially dismantled condition. The last class 86 locos were taken out of service by the Deutsche Bahn in 1974. The black giant to be transported from the harbour in Karlsruhe to Ettlingen weighed 60 tonnes.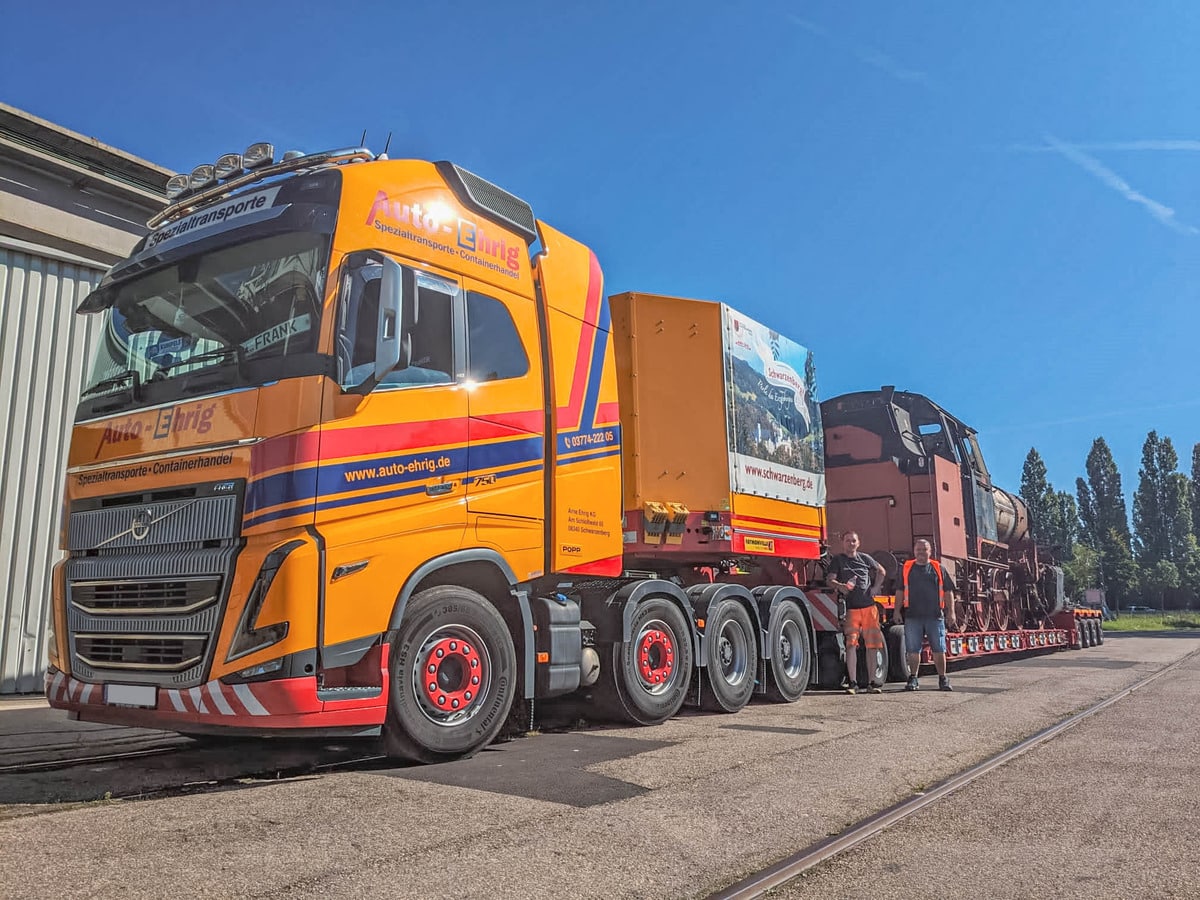 The locomotive began its journey on a 2+4 VarioMAX low loader from Faymonville. The vessel deck employed was telescopically extended by one metre. In addition, the Ehrig team installed the 6,000 millimetre-long elongation beams. The whole setup was thus ideally designed for pulling the 13.86 metre-long locomotive onto the low loader via a special track ramp and a permanently installed track on the inner vehicle chassis after uncoupling the gooseneck.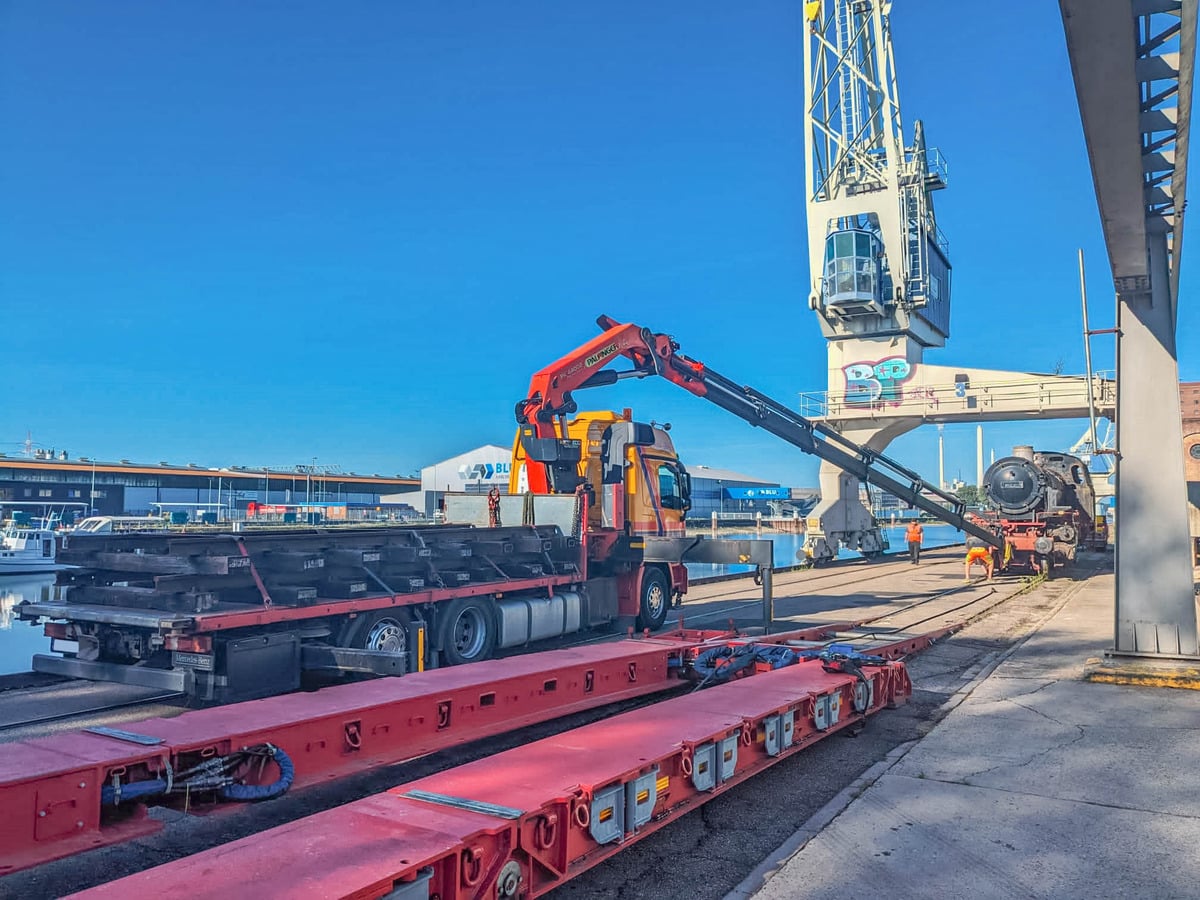 The overall weight of the combination amounted to 107 tonnes, with an overall combination length of a good 30 metres. The preliminary work had accordingly been done when the locomotive reached its destination. Now begins the task of the Ulmer Eisenbahnfreunde, who want to restore the gem to its original glory.