And the Winner is… Kings Heavy Haulage
THE HEAVIES AWARD 2020 FOR THE JOB OF THE YEAR (CAT1) VEHICLE AND LOAD UNDER 50 TONNES GVW GOES TO KINGS HEAVY HAULAGE!
In the Judges words: 'Very good teamwork and planning, always far more difficult working in the public eye. A spectacular but awkward task, requiring care and precision. Big statues are generally not designed to be moved!'
Kings Heavy Haulage collect the Job of the Year CAT1 award for their movement of the Messenger Statue at 8.793 x 5.532 x 7.40 and 10000kgs. Carried out between the Brittany Ferry Terminal to the Theatre Royal Plymouth, this project involved Theatre Royal staff, statue specialists, Devonport Dockyard, shipping, craneage, haulage, traffic management, Plymouth Council, Devon & Cornwall Constabulary.
The Messenger is a large statue in Plymouth, created by the Cornish artist Joseph Hillier, depicting a female actor crouching in preparation to run onstage. It was commissioned by and installed outside the Theatre Royal, Plymouth in 2019 in preparation for the city's Mayflower 400 celebrations.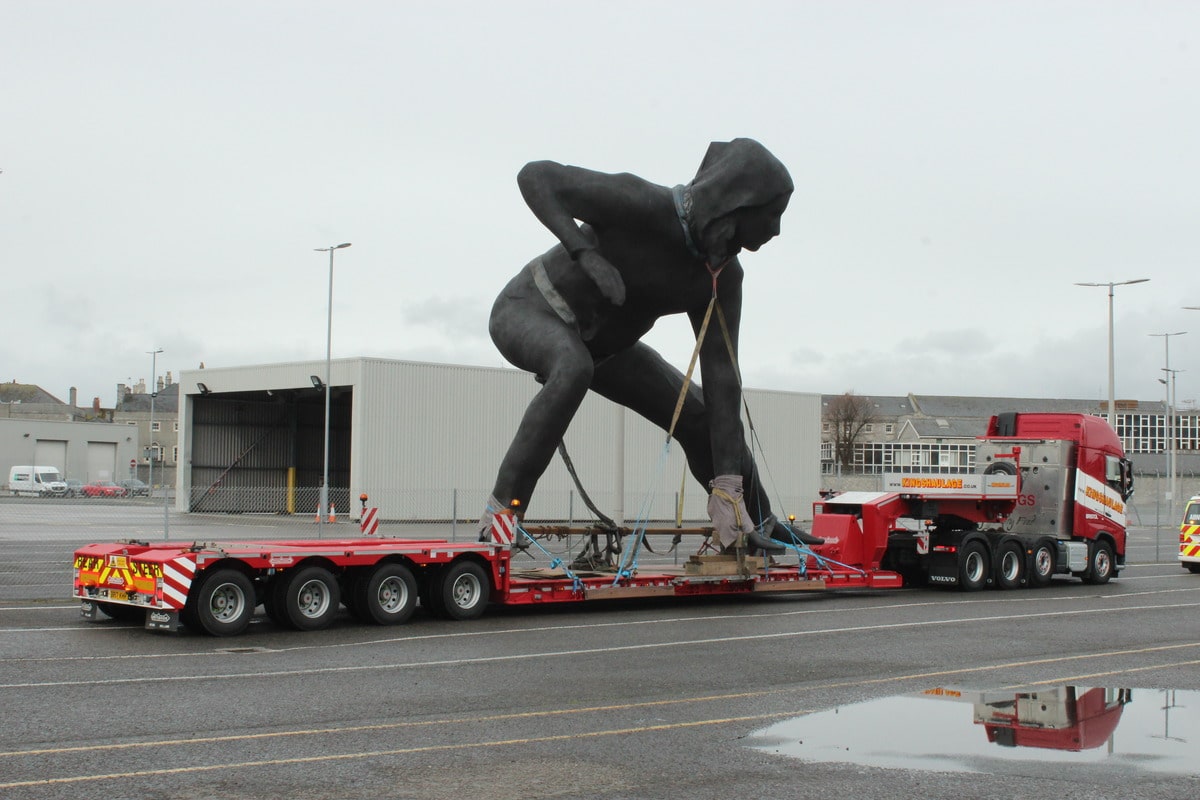 From start to finish, the project encompassed construction of the statue, crane to a low-loader and movement to quayside in Devonport Dockyard, before craning on to a barge. The barge then travelled in to the Brittany Ferries terminal from Plymouth Sound and Messenger was craned from the barge onto the low-loader. Next, under VR-1, the statue moved from the terminal to the theatre where it was lifted in to position outside the theatre.
From initial enquiry to the actual movement was approx 18 months, with countless meetings, route surveys and measurements ahead of the project.
Even though an awful amount of work was carried out 'behind closed doors' at Devonport Dockyard the Messenger was shipped in to the Brittany Ferries Terminal in front of the national press, with the addition of the movement being filmed by Ultimate Movers, so everything had to be on schedule and correct.
Congratulations to everyone at Kings Heavy Haulage involved in this project!