IVECO eDaily Tows over 153 Tonnes to Claim Guinness World Record!
THE ALL-ELECTRIC LIGHT COMMERCIAL VEHICLE IVECO eDAILY – IN ITS 3.5 TONNE VERSION – HAS CLAIMED THE OFFICIAL GUINNESS WORLD RECORDS TITLE FOR THE 'HEAVIEST WEIGHT TOWED BY AN ELECTRIC VAN'.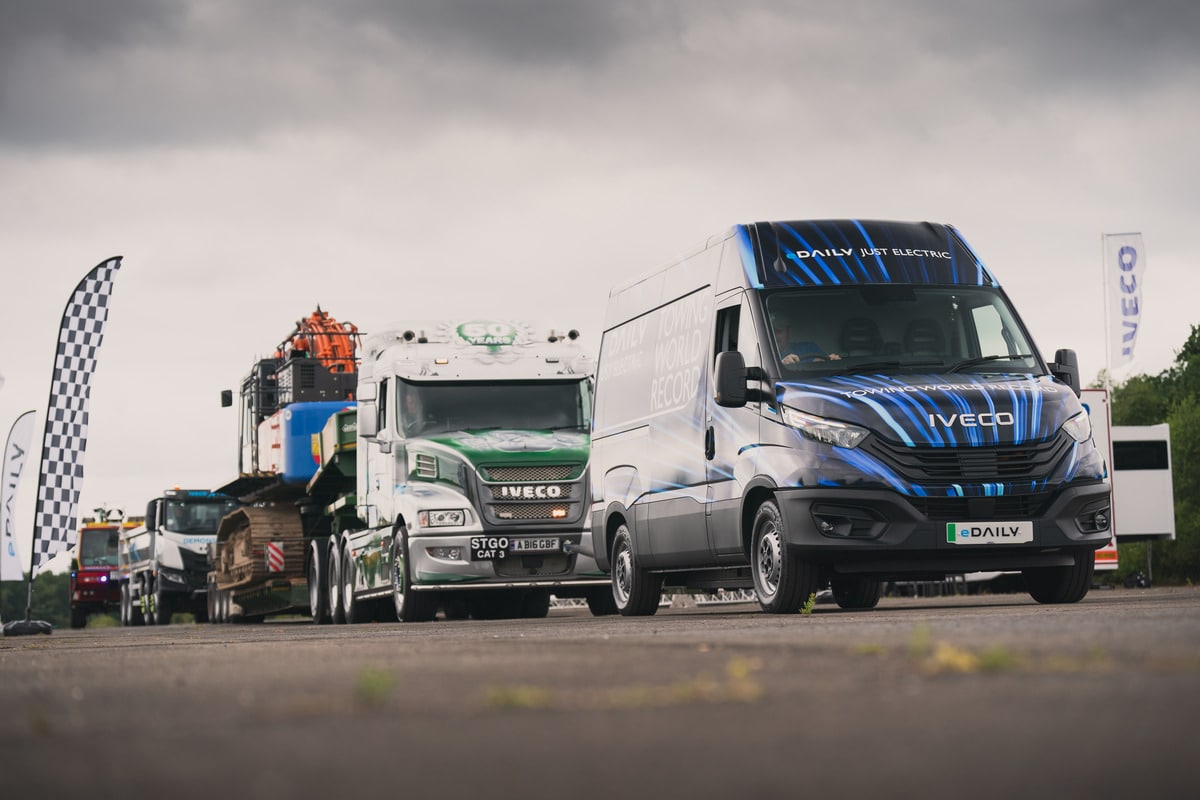 The IVECO eDaily is known for its class-leading 3.5 tonne towing capacity and strong truck-based chassis, with the van's robust engineering now cementing its place in the history books with an official Guinness World RecordTM.
Towing an incredible 153.58 tonnes, this standard production electric vehicle is now globally recognised for its extensive capabilities. In fact, this achievement surpasses records set by all-wheel drive electric cars, an impressive feat delivered by the eDaily's 140kW rear-wheel drive drivetrain with 400Nm of torque.
On 20th June 2023 the record-breaking eDaily was hitched to the enormous IVECO X-Way Strator truck. This mighty machine was specially engineered to cope with moving large-scale loads of up to 150 tonnes. The truck's trailer was laden with a huge earth-mover weighing in excess of 50 tonnes, with an additional seven tonnes of ballast being added for good measure. A fully-loaded IVECO X-Way 8×4 tipper truck was then attached to the Strator's trailer before an all-terrain airport fire truck completed the 153-tonne road train.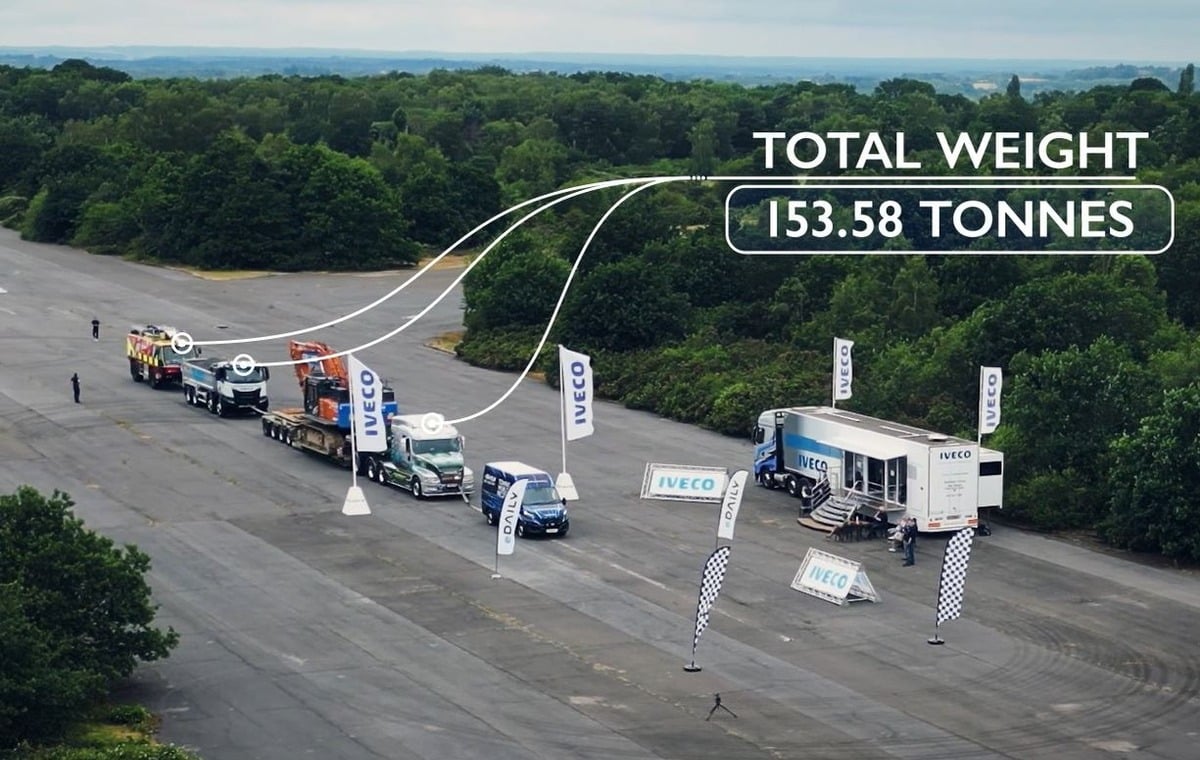 Once it started moving the eDaily made steady progress down the stipulated 100ft of runway and crossed the finish line in front of the Guinness World RecordsTM invigilators to claim its impressive accolade. The van's 'hi- power' mode – fitted to every eDaily as standard – was utilised on the run which provides bursts of additional power in demanding towing conditions for the all-electric van. Britain's current Strongest Man, Adam Bishop, drove the eDaily and broke the world record.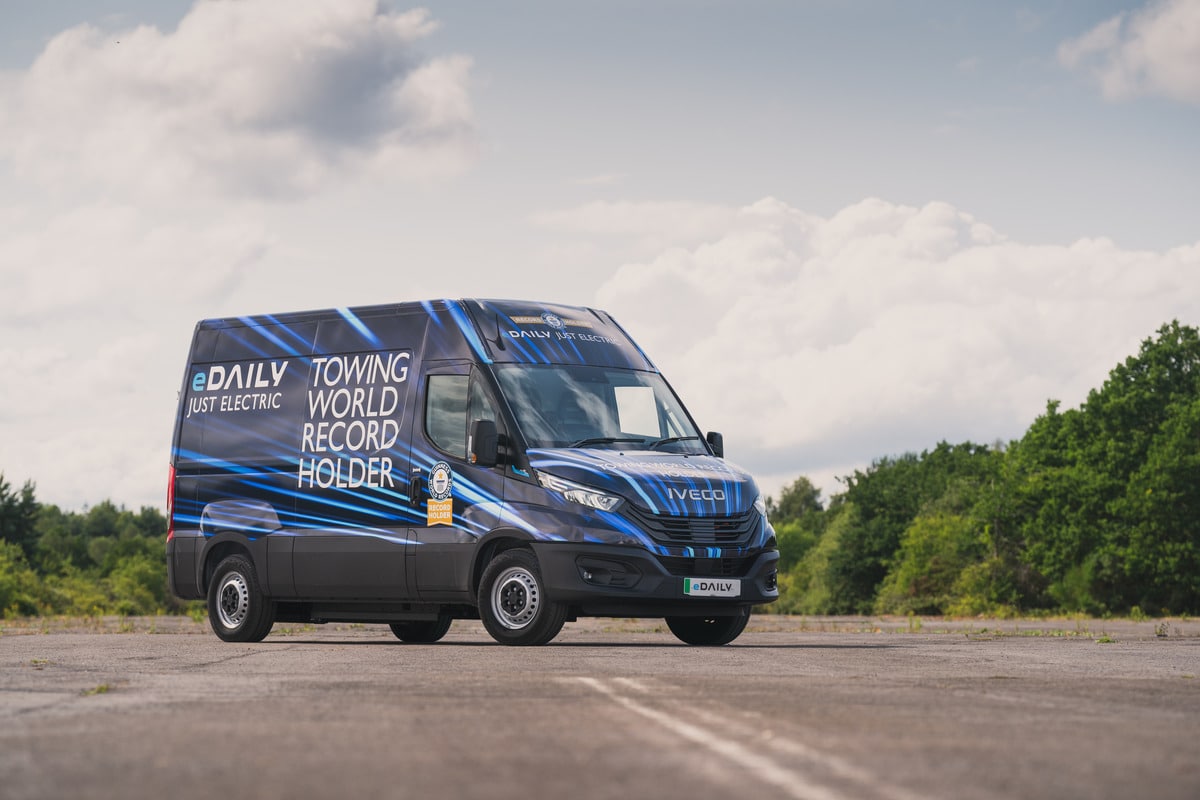 Fabio Santiago, Head of Marketing and Product Management IVECO Truck Business Unit said: "The IVECO eDaily has made history with this impressive record, giving further evidence of its strength, durability, and outstanding capabilities. We are proud of this achievement as it demonstrates the eDaily's capacity to push the boundaries, outperforming traditional electric vehicles and enabling customers to pursue the energy transition without compromise".
The IVECO eDaily made EV history and highlights the benefits of its body on frame concept and the immediate torque delivery of its electric motor. Operators undertaking demanding towing missions can rest assured that the eDaily is more than capable of its official up to 3.5 tonnes towing capacity.