Mammoet partnership with Spanish heavy transport specialists Arbegui and Transmodal announced, with the aim to strengthen its presence in the fast-growing Spanish market. As strong market growth in the manufacturing and construction sectors drives a surge in heavy lift and transport requirements, the partnerships will enable Mammoet to access this increased demand in Spain. On top of that, the partnerships will increase Mammoet's capacity in the Spanish market with 44 self-propelled modular transporters (SPMT).
Local knowledge, global expertise
Alvaro Macias from Mammoet Spain said the partnerships are an opportunity to expand operations and capitalise on the Spanish market. "Although we have the largest fleet of SPMTs in our European portfolio, it takes time and resources to bring the vehicles across to our Spanish projects. Spain is becoming an important market for us quickly and we wanted to explore options for a more local solution. By partnering with two trusted and experienced local specialists, we were able to add an additional 44 SPMTs to our fleet, as well as additional teams of locally-based engineers and operators. The Mammoet, Transmodal and Arbegui units can now work together across Spain to deliver projects that combine global expertise with the knowledge of local, expert operators.
Each partnership brings unique value that will enable us to deliver a complete offering to our Spanish clients. Transmodal has over 100 years of transport experience with in-depth expertise in the power, chemicals and oil and gas industries. Arbegui combines 65 years of transport know-how with an impressive fleet of heavy transport machinery. With their expertise in the transport of over-sized goods evident, Transmodal and Arbegui were a natural choice of partner to complement Mammoet's global expertise, experience and unparalleled fleet of lifting and transport equipment."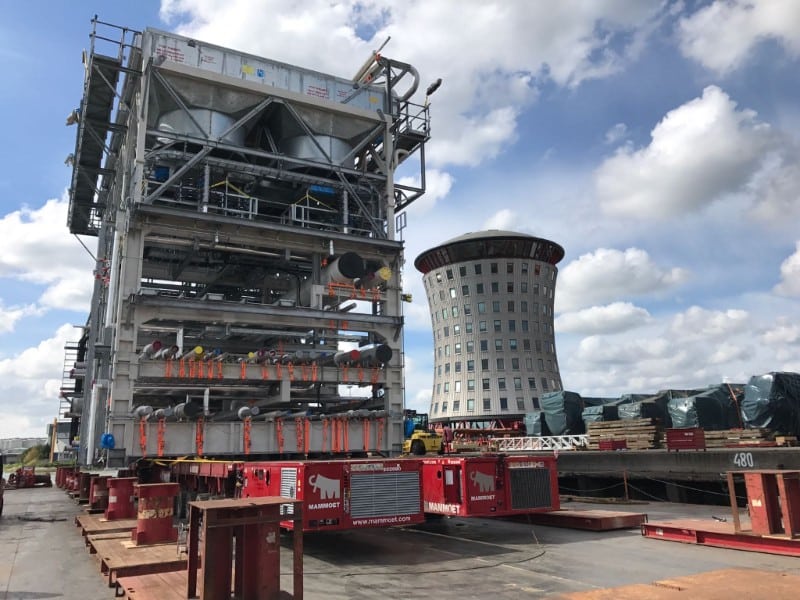 Putting the wheels in motion
Arbegui General Manger Julen Arzadun reflects on how a previous collaboration with Mammoet paved the way for a strong, collaborative partnership. "We recently completed a complex roll-on/roll-off project as part of the transport of a large generator and coke drum by sea. The manoeuvres took place in a single day, minimising disruption at the busy Aviles Port, which was completely blocked by the load. It was the local knowledge of our team, combined with the experience of Mammoet that enabled this complex manoeuvre to happen in such a short time."
Similarly, Transmodal General Manager Luís Malagarriga Roselló describes a multi-stage modular transport delivery to the Esso refinery in Rotterdam. "Our partnership with Mammoet is already leading us to work together on some challenging projects. We recently delivered a door-to-door project. Using our SPMTs we loaded modules to three different shipments for transport to The Netherlands where Mammoet were on hand to offload the modules ready for delivery to the Esso Refinery in Rotterdam. Strong local teams were present, both in the Spanish port of Tarragona and in Rotterdam, to ensure smooth execution of this difficult lift."