Pentalver roared with delight managing the inland transportation and handling of the latest Longleat Pride member.
The fibreglass lion sculpture was commissioned to celebrate Longleat Safari Park's 50th anniversary. The sculpture will be officially celebrated at a special anniversary party later this year where Sir Elton John will perform.
The Lion sculpture is 8 metres long and 4.3 metres tall and weighs almost 3 tonnes. It arrived at London Gateway from South Africa in a 40ft open top container on board Safmarine Highveld on the 11th March 2016.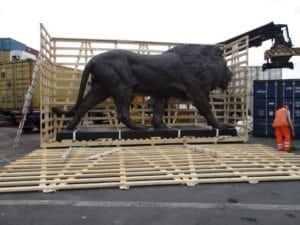 Tigers, a global supply chain group headquartered in Hong Kong, have a close relationship with Bruce Little, the South African based sculptor, who sculpted the lion. Tigers South Africa handled the shipment from source and engaged Pentalver to handle the UK delivery leg from the port to Longleat Safari Park.
Pentalver Specialist Haulage Team transported the loaded 40ft open top container from London Gateway to Tilbury where the Cargo Handling Team carefully de-vanned the container and loaded the sculpture onto the wafer deck trailer. The transportation to Longleat Safari Park was captured by many on their phones as the Lion was such an unusual impressive sight to be seen on the motorway. Carl Wheeler, Specialist Haulage Transport Planner commented: "Pentalver were delighted to be involved in such a prestigious project. We were first instructed to deliver the lion by crate, however the consignment was too high to travel by road on our super low loader, so our expert cargo handling team carefully removed the Lion sculpture from the casing. Our one stop shop service provided the customer and artist with peace of mind knowing the sculpture was in safe hands. Pentalver have the expertise and equipment needed to ensure a smooth transit from Port to final delivery at Longleat."