Terra Marique Lands at Black Rock Sands
STAFFORDSHIRE-BASED ROBERT WYNN AND SONS LTD. HAVE SUCCESSFULLY BEACHED THEIR HEAVY LIFT RO/RO BARGE, THE TERRA MARIQUE, ON TRAETH Y GRAIG DDU (BLACK ROCK SANDS BEACH), MORFA BYCHAN IN NORTH WALES.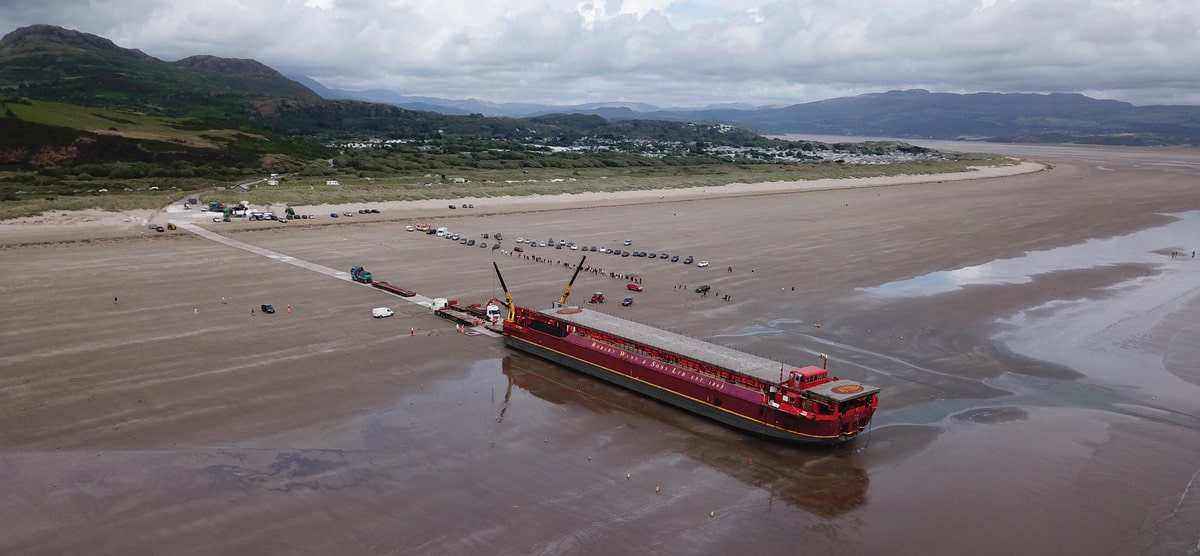 The 80m x 16.5m barge, which is flat bottomed and designed to take the ground, was delivering a 155te electricity transformer loaded in Rotterdam and destined for National Grid's substation at Trawsfynydd.
The whole beach landing operation took under 12 hours with the Terra Marique maneuvering on to the beach under her own power at high water, and then as the tide receded, the final 200 metres of the 330 metres of aluminium trackway was laid.  Once all the trackway was laid, extension ramps were installed and the 155te transformer, loaded on to a 12-axle trailer, was then driven carefully off the barge, along the trackway and up the beach; with the Terra Marique refloating and departing on the next high tide.
Working for Allelys, this project was a replication of an operation Robert Wynn & Sons carried out in 2020, having identified the opportunity of using the beach once it became clear that local stakeholders, including National Grid, were keen to avoid the disruption that would have been caused through the use of Porthmadog Harbour, (the traditional port for access to Trawsfynydd power station and substation).
The beach landing was several months in the planning with a requirement to obtain a Marine License and ecological consents from Natural Resources Wales, along with permissions from the Crown Estate and Gwynedd Council.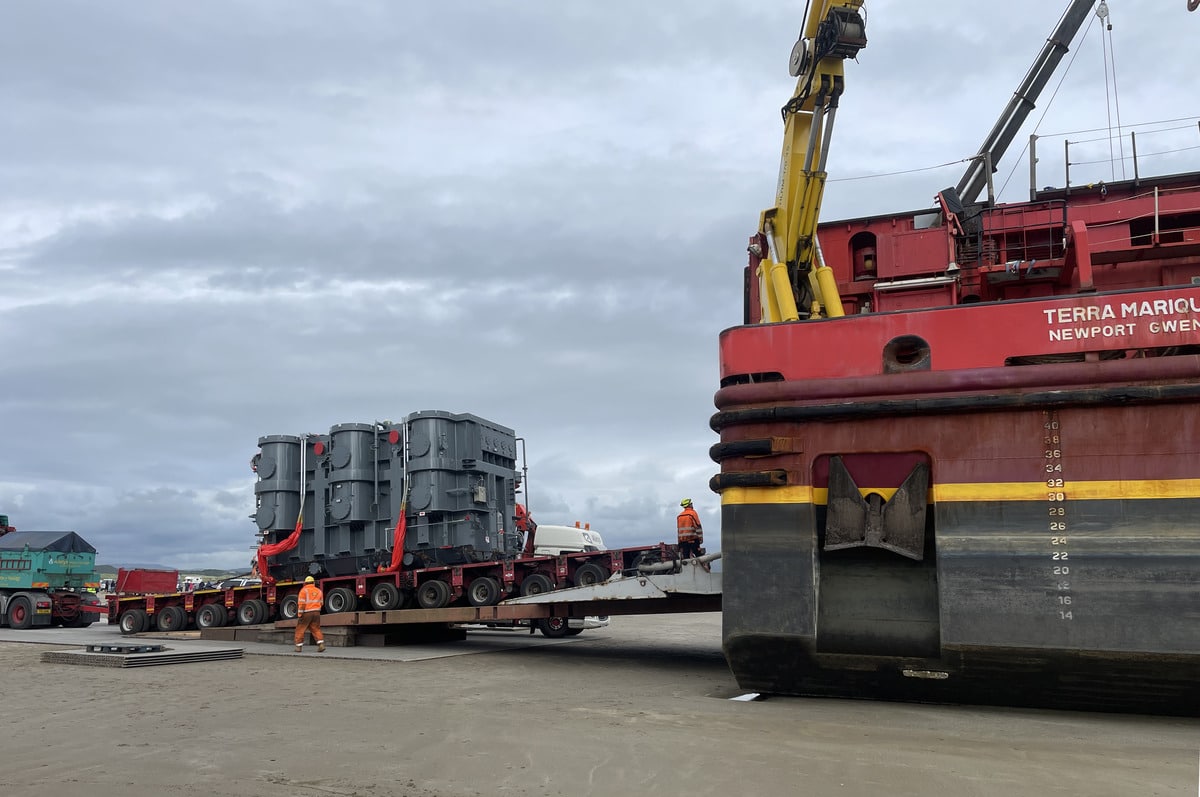 Robert Wynn & Sons' General Manager, Andy Manners coordinated the beach landing and commented, "While the Terra Marique is purpose built for such operations, and having carried out a previous beach landing at Black Rock Sands in 2020 as well as similar operations in Hampshire and Pembrokeshire, working in such a sensitive environment there is always detailed planning and collective working required to successfully carry out such a challenging operation."
"The beach was left as we found it, and all my colleagues and those from Allelys, Sunbelt Rentals, GSS and Gwynedd Council worked tirelessly to ensure the successful delivery of the transformer."